Intelligent coating systems stand out for their combination of various functionalities. It is no longer enough to guarantee only the one or other property, rather multifunctional properties are asked for, some that seem contradictory at a first glance. With innovative processes and products we develop top quality coatings so that textiles can meet these complex challenges.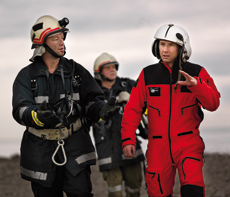 We offer intelligent coating systems for all kinds of application fields. This also due to the fact that classical materials are often replaced by textiles because depending on the application field, these textiles are often lighter, more flexible, more economical and have multiple uses.
The chemistry has to be right
Coating plays a very important part in finishing modern, functional textiles. There are constantly new developments and progress.
In order to guarantee the increasing quality demands and promised product properties in all fields, the chemistry has to be exactly adjusted to the final application field. Technologies like the various kinds of compact and foam coating, coagulation, gel methods and dot coatings belong to the product range of the CHT Group.
Flame retardant coatings and finishes
Flame retardant products play an important part in finishing functional textiles. There are different kinds of flame retardant agents depending on the requirements or application field.
Not only the right flame retardant is decisive for the right flame retardant coating or finish, but also the standard to be met, the basic fabric, the application amount or the application method have to be taken into consideration.
Our Global Industry Partners