Silicone Narrow Fabric Coatings
Safety and comfort at any time
Modern textiles often require an invisible support, so that people can move comfortably and without worrying, and the textile article can fulfil its desired function.
Due to their transparency and adhesive characteristics silicone elastomers impart this desired wear comfort and keep textiles in the correct position if they are applied on the right spots.
These efficient silicone elastomer pastes are applied on multifarious textile articles by means of the corresponding coating unit. Both one-component (RTV 1 silicones) and two-component (RTV 2 silicones) paste systems are applied here.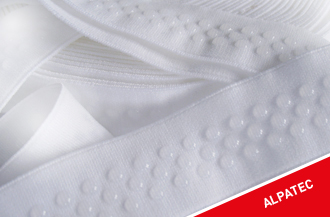 Most narrow fabric coatings are traditionally applied for ladies' underwear, hosiery and medical stockings. In addition to these fields, silicone coatings are currently more and more used for sportswear, straps for glasses or technical textiles.
Functional sportswear in particular must not only look good but also fit perfectly even with a high intensity of motions; it must allow for a great mobility. Silicone paste coatings are the perfect solution when it comes to uniting optical and functional demands on textile materials. Silicone paste coatings are often applied as lines or dots.
CHT offers a broad and flexible range of efficient, tin-free RTV 1 and RTV 2 silicone elastomers which meet vast ecological requirements such as ÖKOTEX Standard 100.
We will be pleased to advise you personally on your requirements and individual processes.
Our Global Industry Partners